Social media experts keep telling us that the most important component of social media is the "social," so why is McDonald's showing us by example that they don't believe it?
Without a great deal of fanfare, McDonald's continues to force itself into our daily social media experience through the use of paid advertising — as it has done across other media platforms for decades. America's fast-food giant routinely buys its way into the top of our Twitter feeds and Facebook newsfeed, and simultaneously ignores the vast majority of responses from followers and fans (and appears unfazed by the fact that a very large percentage of them are disparaging of the company or its products).
Experts tell us that customers want to engage in "conversations" with us — yet McDonald's seems content using traditional advertising methods on these new platforms while virtually ignoring the social part of social media.
Why? Because for McDonald's, the traditional approach of paying for exposure is working.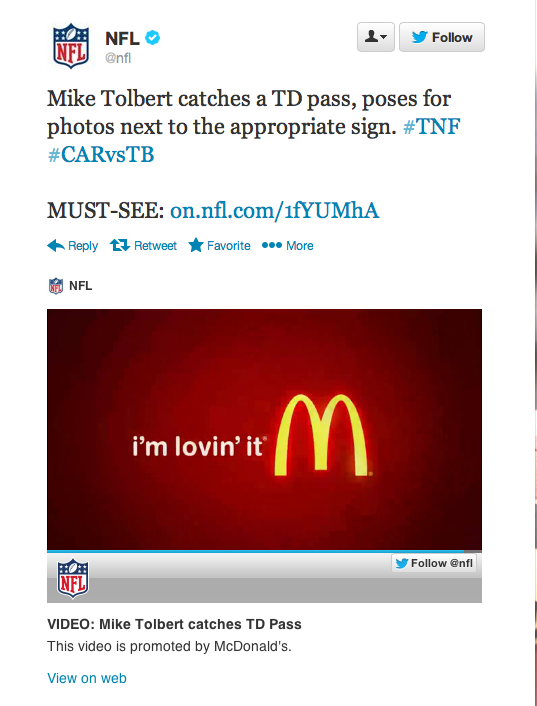 Just this morning, I clicked on a Twitter post that read: Video: Mike Torbert catches TD pass, poses for photos next to the appropriate sign – but before the football action began, I had to sit through a commercial featuring on of McDonald's breakfast items. Effective advertising? Sure, I guess. Social? I hardly think so.
So what's going on here? Why isn't McDonald's using social media the way it was "intended"? Why isn't the company engaging its millions of followers in discussions about the company's products, locations or customer service?
The answer is simple. The overwhelming majority of McDonald's customers choose the Golden Arches for the taste, convenience and/or price of the company's products — NOT because they're looking for a conversation.
Sure, McDonald's has a presence on all the major social media platforms, and occasionally engages with individual customers and others — but it's obvious that the company is not using social media the way most gurus would have you believe social media must be used.
The bottom line is that content is the fuel that drives all social media, and some businesses are better off looking outside their own organization to find that content, or simply paying for exposure.
If your business is naturally suited to produce engaging content — perhaps you publish a newspaper, you write books, or you produce something that is beautiful, interesting or that creates curiosity — by all means, consider using social media to engage your audience in meaningful conversations.
But if your business falls into a less engaging category, at least consider the possibility that you may have to pay to generate any significant results on Twitter or Facebook for your business.
Chris S. Cornell is an award-winning writer, editor and photographer who specializes in the field of social media. He serves as Director of Social Media at WOW Production Services, where he promotes independent films.