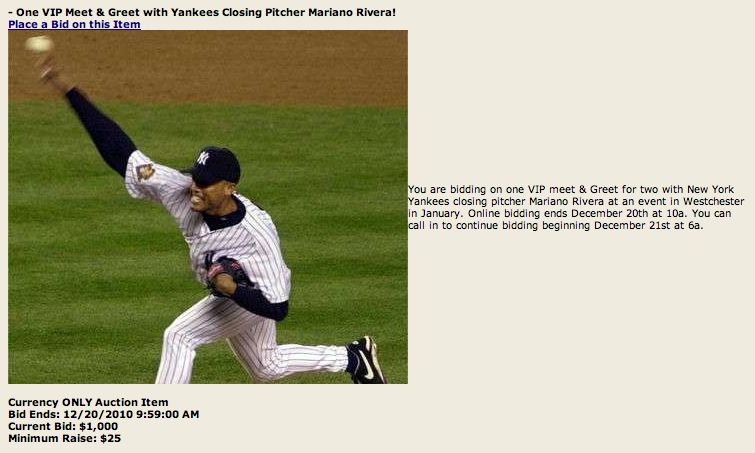 19th Annual WPLJ Concert Auction Features Dozens of Dream Items; Hospital Using Social Media to Promote Fund-raiser
How much would you pay for six seats to a New York Yankees game next season? Before you answer, consider that the seats are among the best in the stadium — in the General Manager's suite.
You can be the hero on your next outing to the Bronx — but it's gonna cost you at least nine grand. You can enjoy the game, though, knowing that every dollar is going to a great cause — to help fund vital programs and services  at Blythedale Children's Hospital in Valhalla, NY.
You can bid on the Yankees ticket package and dozens of other items right now on the WPLJ website. The auction is part of WPLJ's 19th Annual Holiday Broadcast Concert to benefit Blythedale Children's Hospital. The concert will take place at the hospital on Tuesday, December, 21, 2010 from 6:00 to 10:00 am.
Bidding for many of the items ends at 9:59 a.m., Monday Dec. 20, while other items will remain in the auction until the conclusion of the concert broadcast on Tuesday.
The auction features numerous items that would be of interest to New York sports fans. Some of the highlights include the following:
A meet and greet with Yankees reliever and future Hall of Famer Mariano Rivera
New York Mets Jason Bay game-used autographed jersey
Four field level seats to a mutually agreed upon New York Giants game for the 2011-2012 season. Includes parking pass.
Four tickets to a 2011 home New York Islanders game
Football autographed by New York Giants' star running back Brandon Jacobs
Football autographed by New York Giants DE Justin Tuck
Football autographed by the New York Jets
There are many more sports-themed items on the block as well, but if you're more interested in other things, fear not. Some of the other unbelievable items in this year's auction include a lunch with Rob Thomas and his wife Marisol; a round of golf at Greenwich's Stanwich Country Club, where you and a guest will play a round with Scott Shannon and Bill Evans; and 14-seat suite to the upcoming New Kids on the Block & Back Street Boys concert at the Izod Center on June 12, 2011.
Visit the WPLJ website to see the dozens of other available items, and to see which auction items expire tomorrow and which ones continue in the auction until the conclusion of Tuesday's concert.
Hospital to employ social media to assist in fund-raising efforts — For the second-straight year, the auction will feature a live Twitter feed that will provide updates on the concert and on auction items and their respective prices. The hospital will also provide information on the new Blythedale Facebook page.
Editor's Note – Originally, due to a typo on the WPLJ website, this article stated that the Yankees tickets would cost at least $12,000.